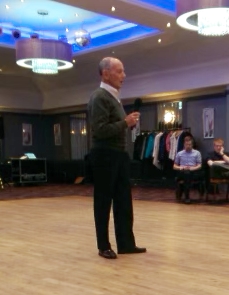 Ian Leitch, 1939 – 2022
IAN LEITCH,
EVANGELIST TO THE UK, EUROPE, USA,
DIED TODAY AT AGE 83

SUNDAY, 19 June, 2022
Evangelist Ian Leitch died today at 5:22pm at his home in Balerno. He was 83.
Throughout his life, Ian LEITCH preached the gospel of Jesus Christ to hundreds if not thousands of people who attended one of his New Life Seminars or Gospel outreach events "Each One Bring One".
He preached in many countries with his unique style and passion for sharing the Good News of the Gospel.
Born 28th March in 1939, Ian has been preaching Jesus since he was 15 years with his unique sense of humour and gifted Bible teaching abilities.
Ian's life verse was from John 9:4-5:
"As long as it is day, we must do the works of him who sent me.
Night is coming, when no one can work."
John 9:4-5 NIV
You can leave a message of condolence on this page. Read messages left by others.
Gifts
Ian Leitch was full time evangelist with The Heralds Trust for 53 years. His life's passion was to share Christ. The mission and ministry of The Heralds is to reach others with the good news of the Gospel. To make a donation to the Heralds ministry please click the following link: DONATE (UK £) or DONATE (US $)
Funeral Arrangements
A service of thanksgiving for the life of Ian Leitch will take place on: Wednesday 29th June at 11:30am at
Charlotte Chapel (directions)
58 Shandwick Pl,
Edinburgh
EH2 4RT
Refreshments will be served immediately after thanksgiving service.
Funeral Livestream Broadcast
A livestream broadcast of the service of thanksgiving will also be available from this website from 11:30am on Wednesday 29th June.